BRIGHTSCAN™ GIVEAWAY CONTEST
CALLING ALL HAWAII-BASED NON-PROFITS!
$10,000 BRIGHTSCAN™ GIVEAWAY CONTEST
ENTER TO WIN NOW!
Are you a Hawaii-based non-profit organization? As a mahalo for your mission of serving Hawaii's community, we're giving away a BrightScan™ Temperature Scanner to five (5) non-profits in Hawaii for the purpose of helping to keep your employees, visitors, and volunteers safe. The retail value of each BrightScan™ device is $1,999.
A. Organizations must be based in Hawaii, have an established physical office location (not home-based), and be registered as a 501(c)(3) entity in Hawaii.
B. Complete the official contest entry form below, including answering the following questions:
How has COVID19 impacted your organization?
How has your organization learned to adapt to the new ways of working and doing business?
How can a BrightScan™ benefit your organization?
C. Entries must be submitted by 11:59pm on Thanksgiving Day, November 26, 2020. 
D. One entry allowed per organization.
E. For Bonus Points:
Follow us on Instagram @brightlightdigital and/or Facebook @brightlightdigitalsignage
Like the BrightScan™ giveaway photo on our Instagram and/or Facebook accounts
Tag a non-profit organization that would benefit having a BrightScan™ device for their organization.
Repost the photo and tag @brightlightdigital and #BrightScan.
F. Winners will be announced by December 1, 2020. Five non-profit organizations will be chosen to receive (1) BrightScan™ including a table stand (shown in adjacent photo) valued at $1,999. Floor stand accessory available for purchase separately. No substitutions or cash value in exchange for BrightScan™ device. Bright Light Digital is not responsible for any liability arising directly or indirectly from the award or use of the prize. Bright Light Digital has the right to publicize all winning organizations for promotional purposes.
G. Questions? Call (808) 521-3000 x824 or email us at brightscancontest@brightlight.biz.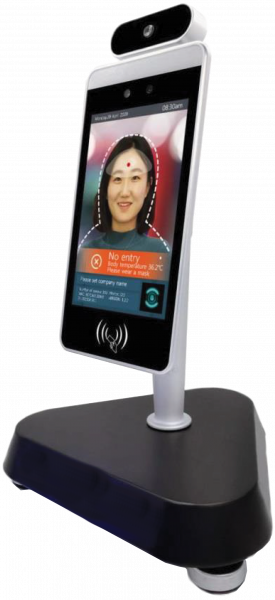 Records body temperature with ≤ 0.9°F accuracy in under one second with audible feedback

If enabled, the built-in camera can recognize an individual's face using advanced facial recognition software

Keeps track of name and ID number, identity, expiration date, registered type, and photo of entrants

When a person not wearing a mask is detected, a no-access message is both displayed and voiced
Interested in a BrightScan™ product demonstration?
Call, email or complete our online form to schedule an appointment!
BrightScan™ is not intended for use in the diagnosis of disease or other conditions or in the cure, mitigation, treatment, or prevention of disease, including COVID-19. An indication of an elevated body temperature should be confirmed by a secondary evaluation method, such as a non-contact infrared thermometer or clinical-grade contact thermometer. Various environmental and methodological factors can impact thermal imaging results. This is not an FDA-approved device.  A guidance document from the FDA can be viewed here. Proper use of this device is the responsibility of the end user, who must confirm compliance with applicable data privacy, medical data privacy, and employment laws and regulations, including HIPAA compliance.