We follow a straightforward, four-step process for each digital signage project. We will work closely with you during each step in the process.
Wyndham Vacation Resorts Royal Garden at Waikiki
Bright Light Digital was contracted by Wyndham Vacation Resorts Royal Garden at Waikiki to develop a solution for transmitting content to their two existing, back of house 32″ display monitors. The monitors were used to broadcast corporate news, events and activities for the hotel's local staff using a PowerPoint presentation. With the old system, each slide in the presentation was converted to image files then saved onto a flash drive and inserted into the monitors. It was a tedious, time-consuming process for the staff.
The solution consisted of a web-based digital signage application combined with Google Apps to host the converted presentation file. A media player pre-installed with a digital signage software app was used to push the presentation content onto the displays. Updated content can now be transmitted to the displays almost instantaneously without having to touch any hardware.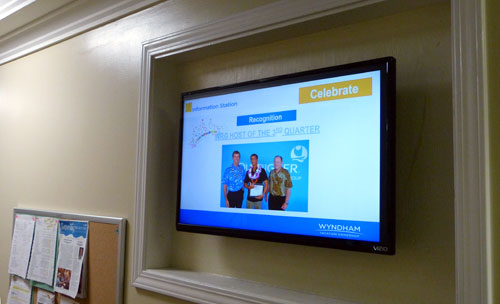 "Mahalo to Bright Light Digital for providing our operations with a product that we initially thought would be outside of our budget."